Portable Asphalt Plant
Description
Xuetao offers portable asphalt plants with an output range of 50t/h to 140 t/h based on customer needs. It is suitable for small construction projects and road maintenance projects that need to move frequently. The mixing plant has fast interfaces between components, making it convenient to assemble and disassemble. The main component is directly installed on the car chassis car for easy movement, which is developed according to the characteristics of short and scattered projects, making it an ideal, practical choice.
Basic specifications
Max Oil consumption: 6.5kg/t
Fuel: Diesel oil, Heavy oil
Product temperature: 130-160℃
Environment noise: 80dB(A)
Dust Collection: Primary: gravity type. Secondary: bag filter.
Max Dust emission concentration: 73.1mg/Nm3
Flow chart
Workflow
Different sizes of aggregates are conveyed using the belt to the screening equipment, then the bulk materials are removed, and the fine materials are transported to the drying cylinder through the belt conveyor.
The fine materials are heated and then lifted to the vibrating screen by the hoist. After screening, the different material sizes will enter the corresponding hot material bin for usage.
Fine materials are measured in proportion according to the formula and then enter the mixing cylinder. Powder is measured from the powder bin, then spirally conveyed to the mixing cylinder.
The asphalt is measured and sprayed to the mixing cylinder to mix well with the aggregates and powder, and the finished product is produced.
Components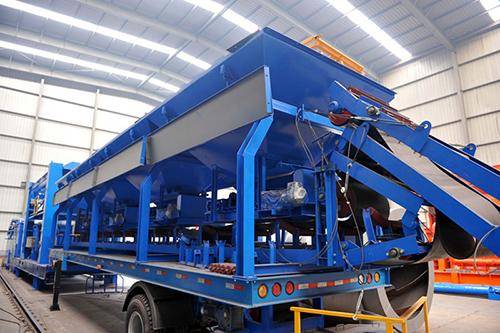 1. Cold aggregate feeding system
★ Alarm devices are installed at each outlet of the system to alert users to material shortages or material blockages.
★ The shock absorber and the arch breaker are installed in the coarse and fine material bin to eliminate any idling caused by material failure.
★ The belt is controlled using a variable frequency speed governor and can be operated in the operating room. This makes it easy to use, and offers an easier adjustment precision.
★ Each inlet is equipped with a screen mesh to avoid the entry of large materials into the system, which not only saves fuel, but also effectively prolongs the service life of drying cylinder, hoist and vibrating screen.
---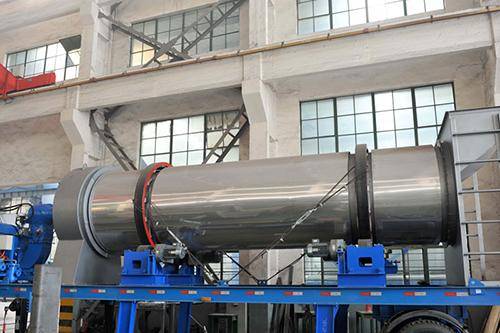 2. Aggregate drying system
★ The cylinder features an inclined structure, and the support is installed in a lower position to ensure stable operation.
★ Four motors operate synchronously to drive smoothly.
---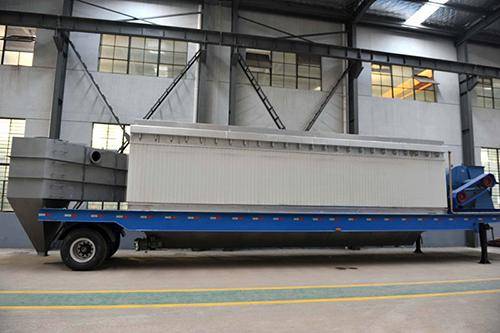 3. Dust recovery system
★ Two-stage dust removal mode
The first stage uses a volute dust collector or a cyclone dust collector, which collects dust larger than 0.075mm and sends them for reuse.
The second stage uses a a high-pressure pulse bag filter with compartmented chambers, whose high-temperature resistant filter bag is made in the United States.
★ The high-pressure pulse bag filter with a high temperature resistance features an excellent air permeability. It has a dust removal rate up to 99.5%. The actual dust measurement is 47.3mg/Nm3
---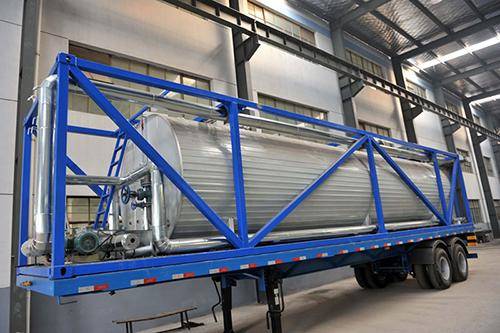 4. Asphalt storage and heating system
★ The whole heating system features a circular design with no dead angle.
★ A heating coil is used to heat up asphalt in a short time and keep it warm
---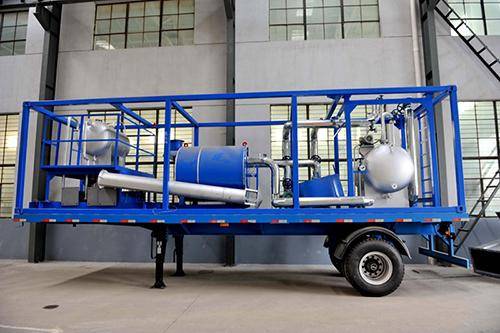 5. Thermal oil heating system
★ The heating system features a rack structure to heating the whole system, and is convenient to move.
★ The system is equipped with a fully automatic burner, and the temperature is interrelated with burners.
---
6. Control system
★ The main electrical components are sourced from SIEMENS, Schneider and other brands.
★ Daily production data and production graphs can be displayed, viewed and printed to facilitate understanding of the daily production rates.
★ The remote service system on the internet greatly shortens the maintenance time, improves efficiency and reduces costs.
---
7. Trailer chassis
The equipment can be divided into several modules and each module has a customized Trailer chassis with ABS. The chassis are also equipped with complete brake warning device to meet the requirements of road traffic.
---
Case study
This mixing system needs to be customized according to the site conditions, material types, and production requirements, so please contact us when customizing and we will send professional technicians to help you make plans. Below we show some different cases that have been customized. you can either refer to these cases to provide ideas for your customization, or directly choose one from them.
MAMP50
Rated output
Mixer capacity
Installed power (without finished material silo)
50t/h
700kg/batch
236kw
MAMP80
Rated output
Mixer capacity
Installed power (without finished material silo)
80t/h
1000kg/batch
270kw
MAMP100
Rated output
Mixer capacity
Installed power (without finished material silo)
100t/h
1500kg/batch
319kw
MAMP140
Rated output
Mixer capacity
Installed power (without finished material silo)
140t/h
1800kg/batch
367kw