Asphalt Emulsion Plant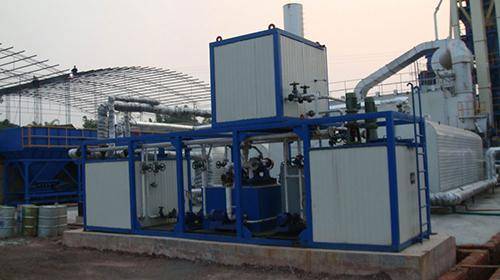 Introduction
The asphalt emulsion plant is used primarily for stirring and storing of emulsified asphalt. It also simultaneously completes the proportioning of asphalt and emulsion by regulating the rotational speed of the asphalt and emulsion pumps, then the material is treated using the emulsifier's shear function. This ensures the asphalt is evenly suspended in the emulsion liquid within a fine particle state, thus forming emulsified asphalt that can be used for on the spot spraying applications.
Emulsified asphalt has different characteristics according to the different emulsion types and proportions. For example, some emulsified asphalt solves easy melting problems in hot temperatures, and easy cracking problems in cold temperatures. The flame resistant emulsified plant is both waterproof and flame resistant.
Process flow
1. Water pipe
2. Heating tube
3. Hot water tank
4. Hot water tube
5. 1# emulsion stirring plant
6. 2# emulsion stirring plant
7. Emulsion pump
8. Finished product tank
9. Bitumen pump
10. Emulsified asphalt pump
11. Emulsified asphalt storage tank
12. Bitumen tube
13. Bitumen tank
Features
Shown below is some basic equipment information.
If you would like to know more, or need customization services, please do not hesitate to contact us.
| | |
| --- | --- |
| Maximum output | 6 t/h |
| Main frame size L x W x H | 7900 x2000 x 2200 mm |
| Hot water tank capacity | 4.0 m3 |
| Hot water tank size L x W x H | 1800 x 2000 x 2200 mm |
| Emulsion stirring plant capacity | 3.8 m3 |
| Emulsion stirring plant size L x W x H | 1600 x 2000 x 1800 mm |
| Bitumen tank | 4.5m3 |
| Bitumen tank L x W x H | 1900 x 2000 x 2000 mm |
| Finished product tank | 1.5m3 |
| Finished product tank L x W x H | 1600 x 1000 x 1000 mm |
| Asphalt pump motor | Y160M-4-3KW (Variable frequency speed control) |
| Asphalt insulation form | Thermal oil insulation |
| Asphalt pump flow rate | 3t/h |
| Emulsion pump motor | Y160M-4-3KW (Variable frequency speed control) |
| Emulsion pump flow rate | 3t/h |
| Finished product pump motor | Y132M164KW |
| Finished product pump flow rate | 9.8 m3/h |
| Electric cabinet size (L×W×H) | 700 x 450 x 1500 mm |